Tumbledown House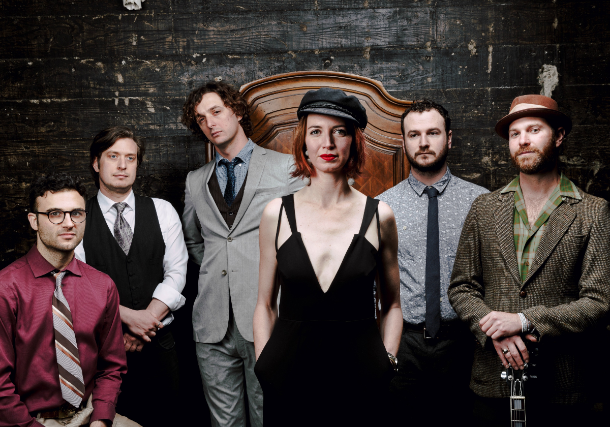 San Francisco songwriting deviants, Tumbledown House, have never been easy to describe. Modern speakeasy, saloon jazz, parlor pop, and Tom Waits in a cocktail dress are some of the terms used, but none of these successfully convey the band's incomparable ability to fuse vintage sounds and themes from yesteryear with the modern instrumentation, refreshingly original compositions, and raw energy that we expect from today's performers.
Tumbledown House began in the rain-soaked streets of Portland, Oregon back in 2009. Since then, the band has performed over 900 shows throughout 35 states and has recently released their third full-length studio album, "Sum and Substance". In 2012, the band relocated to the San Francisco Bay Area where they teamed up with clarinetist John Thatcher Boomer trumpeter Arlo Perlstein, both proficient pianists, and Tommy O'Mahony and Jimi Marks on bass and drums respectively, together providing the perfect sonic landscapes for the intricately crafted songs of sultry, velvet vocal powerhouse Gillian Wolfe and guitarist Tyler Ryan Miller. The resulting group has become just as notorious for their raucous speakeasy parties as they are adored for their intimate seated events, which are oftentimes enriched by lush storytelling; their ability to charm audiences of all walks of life is making Tumbledown House a rising festival favorite throughout Northern California and beyond.
Tumbledown House's latest album, "Sum and Substance", is a slight departure from the vaudevillian carnival ride of their earlier work. Accessing a certain vulnerability, the album showcases the growth and maturity that the band has experienced as artists and songwriters, while still holding on to a bit of the whimsical playfulness that sets them apart from other acts (songs from the album include an ode to Josephine Baker, a commentary on the modern dating game using animal safari metaphors, and an account of a shamanic journey into the Peruvian jungle).
Following the release of their second album, Fables and Falsehoods (featuring several members of New Orleans' Dirty Dozen Brass Band), Tumbledown House resumed their extensive touring schedule to "quickly ascend as one of the new, promising acts of the Rocky Mountain region" (Pop Rocket Press). The band has performed at such illustrious events as the sold out Edwardian Ball (twice), Reno's Artown, Stern Grove's pop-up festival, The Myrna Loy, The Midpoint Music Festival, Oakland's Eastlake Music Festival, in clubs such as Yoshi's, The Regency Ballroom, and Amnesia, and supported notable artists like The Devil Makes Three, Brandi Carlisle, Crooked Still, Keller Williams, The Dirty Dozen Brass Band, and countless others.