Tom Braxton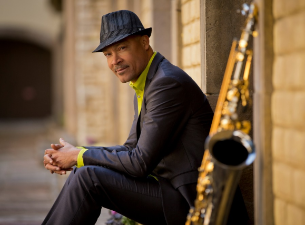 This versatile instrumentalist and gifted composer Tom Braxton is a seasoned performer who has the amazing ability to "grab the heart-strings" of the audience within the first few minutes of his show; engage them with his exceptional skill, wit, and charm; and leave them astounded, clapping, and on their feet screaming for more! That's why Jazz Review calls Braxton "one of smooth jazz's most prolific saxophonists...with all the required tools to become a major force."
This native Texan has recorded nine albums including The Other Side (2016) The Next Chapter (2014), Endless Highway (2009), and Imagine This (2007) on the Pacific Coast Jazz label and Bounce (2005) on the Rendezvous label. The Next Chapter features Grammy winners Bob James, Earl Klugh, and Ricky Lawson, as well as one of Smooth Jazz's most beloved guitarists, Peter White, who all lend their amazing talents to stellar duets with Tom's lyrical saxophone.
His music can be heard on radio and television airwaves nationwide, and his albums have hit numerous jazz charts including Billboard, RadioWave, SmoothJazz.com, Groove Jazz Music, Capital Jazz Radio, and Amazon. He has been a featured performer and fan favorite on the Smooth Jazz Cruise since 2005. He has also garnered rave reviews overseas, performing as a headliner on the Algarve Smooth Jazz Festival in Portugal, twice on the Ghana Jazz Festival, Smooth Jazz Europe Festival in the Netherlands and the Nile Gold Jazz Safari in Uganda.
He was also a featured performer on the Java Jazz Festival in Jakarta, Indonesia. Braxton is currently touring with Earl Klugh in the US, South Africa, Malawi, Mozambique, Ghana, and Japan, and he has also performed with Keiko Matsui in Russia, Eastern Europe, Malaysia, and Japan.
For 17 years Tom toured extensively with Wayman Tisdale as his Musical Director. Braxton has shared the stage with many great artists including Dave Koz, Rick Braun, Peter White, Brian Culbertson, Marcus Miller, Candy Dulfer, Warren Hill, Bob James, Lee Ritenour, Paul Brown, Paul Jackson Jr, George Duke, Kirk Whalum, Jonathan Butler, Jeff Golub, Norman Brown, Sheila E., Aretha Franklin, Luther Vandross, and Phillip Bailey. He has been featured in media and publications such as JAZZIZ, Smooth Jazz News, The Saxophone Journal, CBS's The Saturday Early Show, Ugandan Television, and Daystar Television Network.