Spyro Gyra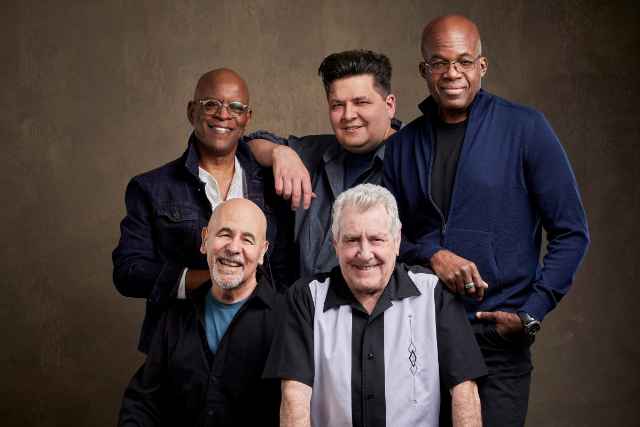 Spyro Gyra is an unlikely story of a group with humble beginnings in Buffalo, NY who has continued to reach an international audience for over forty years, resulting in sales of over 10 million albums, achieving one Platinum and two Gold albums. They have played over five thousand shows on six continents. They have accomplished this due to a forward looking approach combined with the work ethic of an underdog, always challenging themselves to do something new while never resting on past success. It has proven to be a recipe for longevity for this jazz group while music in general has gone in and out of styles in ever shorter cycles. They released their last, their 30th, album of new material The Rhinebeck Sessions in 2013, which Jazztimes called 'inspired'. Travis Rogers of the Jazz Journalists Association picked it for Jazz Album Of The Year. Something Else Reviews called it 'Their finest album since their early 80s heyday' and made it a TopTwenty pick for the year. George Harris of the Jazz Weekly enthused, 'I gotta tell ya, these guys still sound GREAT."

In addition to bandleader Jay Beckenstein (saxophones), the group is made up of Tom Schuman (keyboards), Julio Fernandez (guitars), Scott Ambush (bass) and newcomer Lionel Cordew on drums.Tom Schuman made his first appearance on the band's eponmymous debut forty years ago. Julio Fernandez joined the band in 1984 and Scott Ambush joined in 1992.

Born in Brooklyn, bandleader Jay Beckenstein grew up listening to the music of Louis Armstrong, Charlie Parker, Sonny Rollins and Dizzy Gillespie, and started playing the saxophone at age seven. Beckenstein attended the University at Buffalo, starting out as a biology major before changing to music performance (read classical and avant garde). The thriving Buffalo music scene soon offered new avenues of rock, soul and blues to explore. "Not many people know it, but Buffalo was like a mini Chicago back then, with a smoking blues, soul, jazz, even rockabilly scene, of all things," Beckenstein muses. "After being confined to classical music for so long, it was heaven. I was in the horn sections around town, backing some great vocalists."

Spyro Gyra, whose odd name has since become world famous, was first known simply as "Tuesday Night Jazz Jams," a forum wherein Beckenstein and Wall were joined by a rotating cast of characters. Tuesday just happened to be the night when most musicians weren¹t playing other gigs to pay their bills. Around this time, a young 16-year-old keyboardist named Tom Schuman began sitting in. Schuman went on to play on the debut album and remains a member of Spyro Gyra to this day, having just passed his 41st year mark as a full time member.

"Don't forget the interminable Dead-like solos we were taking," Beckenstein cracks. "We were the kings of self-indulgence, but eventually we earned our right to charge a quarter at the door. It was a complete shock when word of our psychosis got out and we started packing them in!" The group's increasing popularity combined with the purchase of a new sign for the club prompted the owner to insist that Beckenstein come up with a name for his band. "It began as a joke. I said 'spirogyra.' The club owner misspelled it, and here we are thirty years later. In retrospect, it¹s okay. In a way, it sounds like what we do. It sounds like motion and energy."

In their earliest days, Spyro Gyra took their cues from Weather Report and Return to Forever, bands whose creative flights were fueled by a willingness to do things that had never been done before. "I believed that we were springing from what Weather Report did," says Beckenstein. "I never thought in commercial terms. I just thought Weather Report were the next step in the evolution of jazz, and that we would be part of it."

The first few years saw the group's identity split into a dynamic live act coupled with a production-centric recording process, characterized by a rotating cast of characters in the studio including Randy Brecker, Michael Brecker, Bob Malach, Steve Gadd, Steve Jordan, Hiram Bullock, Eddie Gomez, Will Lee, Marcus Miller, Dave Samuels, Manolo Badrena, and many others. In 1983, Beckenstein made the decision to make the band's albums a reflection of the live show and to showcase the work of his core band members he shared the stage with night after night, only supplementing with occasional guests.

"When we first started," Beckenstein recalls, "a lot of the jazz purists got on our case about calling what we did jazz. Now it's funny to hear us getting respect from the same people. Art manifests itself in a multitude of styles and contexts. Isn't that why we started to play music in the first place?" In 1977, Beckenstein and Spyro Gyra foreshadowed the DIY punk rock movement by self-releasing their eponymous debut album. Spyro Gyra was picked up by Amherst Records, a local Buffalo, NY label, who then made a deal for subsequent albums to go by released through Infinity Records, a label owned by MCA Records. After netting Infinity its only gold (soon to be platinum) record with 1979's Morning Dance, Infinity folded and the group was picked up by MCA Records. There they stayed until MCA acquired noted contemporary jazz label GRP Records. Spyro Gyra moved to GRP in 1990 and put out all but one of their 1990's output on that label. In 1999, they released a single album, Got The Magic with special guest vocalist Basia on Windham Hill Jazz.

The early 2000s saw the band returning to indie mode, licensing their albums to Heads Up International. Most of the Heads Up album masters have returned to the band as independent self-releases, which they continue to sell through their site, on tour and wherever music is sold. In 2011, Spyro Gyra returned to their old label, Amherst Records to release A Foreign Affair. 2013's The Rhinebeck Sessions is the band's first fully independent release since their 1977 debut and The Best Of The Heads Up Years was their second.

They are currently preparing for the mid-summer 2019 release of Vinyl Tap, their first album of new material in six years.

"My hope is that our music has the same effect on the audience that it does on me," says Beckenstein. "I've always felt that music, and particularly instrumental music has this non-literal quality that lets people travel to a place where there are no words. Whether it's touching their emotions or connecting them to something that reminds them of something much bigger than themselves, there's this beauty in music that's not connected to sentences. It's very transportive. I would hope that when people hear our music or come to see us, they're able to share that feeling with us. That's the truly glorious part of being a musician."