Masters of Hawaiian Music Featuring master slack key guitarist George Kahumoku Jr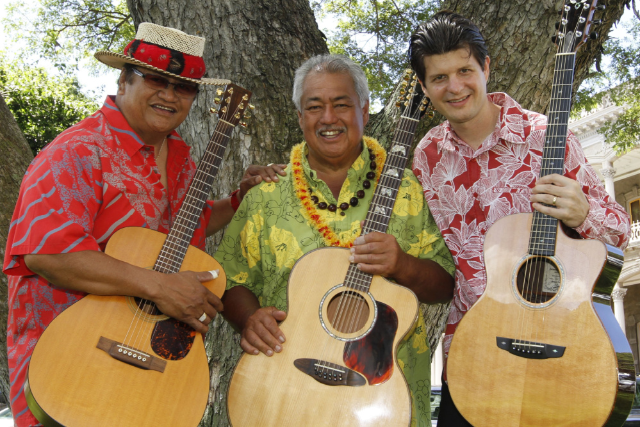 George Kahumoku Jr. & Masters of Hawaiian Music
"Kahumoku was an affable raconteur, mixing his dialogue with passionate renderings of material…"
–LA Times
"…The vocals and slack-key wizardry of George Kahumoku … is as cleansing as a Sunday drive through God's country."
— The Honolulu Advertiser
"… a master with the acoustic guitar. His music is played from his heart and soul through the very tips of his fingers."
www.amzmusiczine.com
George Kahumoku Jr.
Four-time Grammy-winner, master slack key guitarist George Kahumoku Jr., known as "Hawai'i's Renaissance Man", is also a multiple Na Hōkū Hanohano (Hawaiian Grammy) Award winner, most recently for Best Christmas CD in 2017.
He is also a vocalist, storyteller, songwriter & author, world-traveling performer, as well as a teacher, –he founded the Hawaiian Music Institute at University of Hawai'i-Maui College –artist and sculptor, farmer, and chef (his farm to table). He is the producer and star of the long-running, weekly Slack Key Show® on Maui, which features the best of Hawaiian slack key and other leading music artists, now in its second decade.
Masters of Hawaiian Music:
George tours solo or with the finest artists from his renowned Slack Key Show®, to share the delightful experience of
kī-hō'alu
(slack key guitar) – the distinctly Hawaiian style of open tunings. Shows feature good music and good humor, Hawaiian cultural knowledge, and the down-home spirit of the islands.
Led Kaapana
"…He's an absolute genius on guitar, ukulele, steel guitar, autoharp … and he is still a humble giant…"—
Keith Haugen, freelance writer, Honolulu
A master of the slack key guitar and
National Heritage Fellow
,
Led Kaapana
has been one of Hawaii's most influential musicians for four decades. His mastery of stringed instruments, his exceptional picking style on slack key guitar and 'ukulele, and his extraordinary baritone to leo ki`eki`e (falsetto) vocal range, have made him a musical legend and earned him multiple
Na Hōkū Awards
.
"Herb Ohta Jr. is the undisputed master 'ukulele instrumentalist of his generation."
–Honolulu Star-Advertiser
'Ukulele virtuoso Herb Ohta Jr's
natural talent, knowledge, technique, and speed are unsurpassed. Herb's versatility and ability to adapt to the changing times will captivate you, the listener, and transport you. As a master ukulele performer, composer, recording artist, and teacher, it is Herb's goal to share the beauty of Hawai'i's music, its culture, and the 'ukulele to people all over the world. Son of the legendary ukulele artist Ohta-san, his first formal teacher, Herb learned his first 'ukulele song at age three. Now a multiple award-winner, with
4 Na Hoku Awards and 4 Hawai'i Music Awards
, he creates unique arrangements of new and familiar tunes and makes each song breathtakingly fresh and definitely his own. Herb's style is distinct and recognizable with a graceful "nahenahe" quality (gentle, melodious, emotionally evocative and satisfying) that is very Hawaiian, reflecting the inspirations of ukulele greats that came before him.