Howell Mountain Boys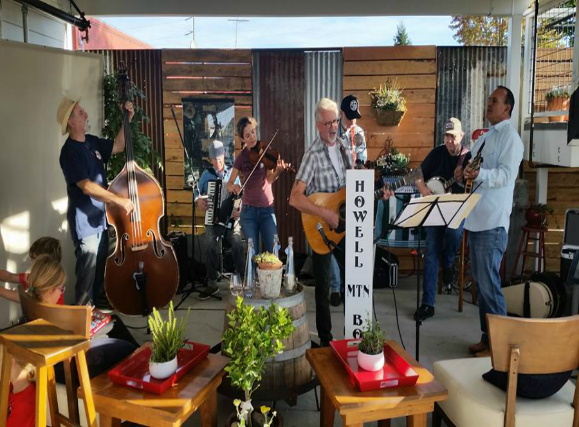 The Howell Mountain Boys are fast paced Alt Bluegrass band based in the beautiful and inspiring center of Napa Valley's wine county. They bring a mixture of original material as well as sounds specializing in traditional tunes that are well known by many; infusing a variety of musical styles including rockabilly and jazz into the bluegrass sound standard. With influences ranging from the traditional sounds of Flatt & Scruggs to the progressive sounds of Seldom Scene, a little Jamaica, Grateful Dead and some Jonny Cash, Elvis thrown in for hip shaking good measure. They're a fun and entertaining group of friendly musicians with a high energy stage show full of music for the whole family to enjoy.
https://www.facebook.com/Howellmntboys/videos/335588229957763/
https://www.reverbnation.com/howellmntboys
Dan Wiegardt - Mandolin
A true country boy from the Central Valley in California spent his earliest years steeped in old western music and gospel music. Flatt and Scruggs, Bill Monroe, Jim and Jessie McReynolds, Jake Landers, James King, Larry Sparks, were all big influences on his music up to today. Living in the Napa Valley now, his love for the traditional music has continued to grow. He performs regularly with "The Howell Mountain Boys" and has other musical projects that he is currently working on. As the Mandolin player, he rounds out the band with his seasoned picking.
Glen Bettencourt - banjo
Born and raised in Napa Valley, Glen played rock and roll during the 1960's. Later on he discovered and became influenced by the bluegrass sounds of Jennie Rose and was inspired to move into the folk and bluegrass music scene, and has been picking banjo now for over 40 years. Glen played the Fillmore West back in the day with Jennie and later recorded with her on her first album. He formed the Diamond Mountain String Band in the 1980's, recording another two albums. Glen went on to play with long time Napa local John Kelly and Greengrass (Celtic music) for 22 years and recorded four more albums with him. Glen now spends his time playing with Howell Mountain Boys as well as numerous other projects in and around the North Bay. His musical influences are Jennie Rose, John McKuen, Earl Scruggs and Stan Dye.
Duncan Lautze - Resonator Guitar and Vocals
As a founding member of the Gst. Posse, Duncan loves playing his resonators with HMB, he also enjoys plugging in with his Les Paul and Strat, too.
His musical influences range from Jamaican records to Neil Young. Raised in the mountains of Santa Cruz CA, he grew up exposed to a wide range of arts and cultures. With his slide guitar, Duncan brings a unique sound to the bluegrass foundation.
Sarah Marriott - Fiddle
Sarah is the mother of twins, living in the Napa Valley with her husband, dogs and chickens. She is the most recent addition to the band, bringing vocal harmonies and some of that old timey fiddling to round things out with the Howell Mountain Boys.
Michael Meehan - Accordion
Michael has been playing the accordion for several years with the Howell Mountain Boys. He brings a unique sound not often heard in the classic bluegrass genre, filling in tasty nuggets with a little cajun flair.
Roy Barush - Bass
Growing up in New York City, not exactly the most likely place to instill a love of Bluegrass and Country music nonetheless was where my passion took hold. Back in those early days I didn't really connect with the popular music of the day, so I needed something that would connect me to a simpler and less congested lifestyle. It was a TV special with Doc Watson and Earl Scruggs that ultimately sparked that pursuit. This was at a time when Bluegrass festivals were just getting started and I was able to see some of the first generation of Bluegrass up close and personal. It was at Ralph Stanley's home place in McClure VA, that I found my connection. The legends on stage, the parking lot picking, the immersion in the culture set against the backdrop of the Blue Ridge Mountains all helped to imprint the music on my soul like I'd lived it all my life.
I followed and collected the music from then on but there was still something missing. Going to festivals and jams was great but I was on the outside of the circle. I needed to find a way inside. I tried to learn guitar or banjo enough to sit in but, dang, it's hard. Then I saw my brother's band, needing a bass player, enlist a member's wife to take a few lessons and in 3 months she was playing in the band. So, at the next festival, I asked her to show me what she learned. That weekend I had more fun than I can remember and went home, bought a bass, and started playing with some local pickers, who helped me out a lot. I had my gateway into the circle. It's been a learning and growing journey ever since and my passion for the music and the community grows stronger every year.
Bruce Wilson - guitar and vocals
The early Philadelphia Folk Festival and the eclectic variety of players present, on stage and in the camps were the roots influences on the music I bring to the Band. Country, blues, rockers, folk, and bluegrass chestnuts are sifted through and reworked and shifted. I'm just happy the other band members let me strum along and sing a few tunes.