Cosmos Percussion Electric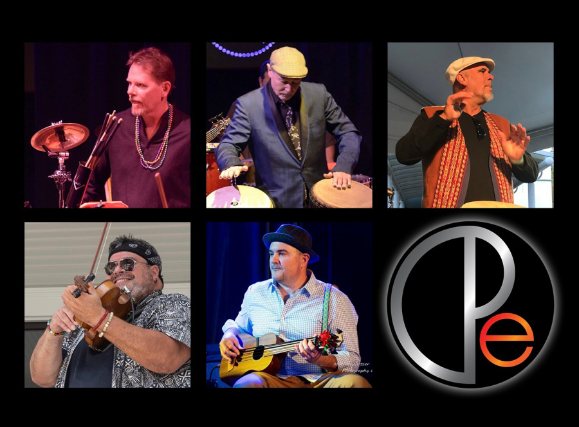 Cosmos Percussion Electric is the Bay Area's premiere world Fusion band. The group consists of Percussionists John Hannaford, David Hight, and Alphonse Meredith; along with melodic Musicians Frank Hernandez (Viola, Guitar and Vocals), and Bassist Chris Cappeto.
Cosmos Percussion Electric creates and performs original and highly orchestrated, rhythmic and melodic music, incorporating a fusion of both traditional and contemporary sources. Their music utilizes the voices of many instruments, over a wide range of genres; inclusive of Afro Caribbean, Latin, Funk, Rock, Jazz, West African, Mediterranean, Brazilian, Ska, and their own Cosmos Fusion.
Cosmos Percussion Electric fully engages and connects with their audiences, intimate or large, as their driving percussion and melodies are shaped through the interplay and response of the Audience.
They have performed at large festivals, respected venues, prestigious events, and venerated clubs. Cosmos Percussion Electric has both Headlined, as well as opened for many amazing bands. They care deeply about the experiences of their audiences.